When:
30/09/2021 – 01/10/2021
all-day
2021-09-30T00:00:00+02:00
2021-10-02T00:00:00+02:00
Contact:
GLOBTAXGOV- Leiden University and Global Tax Symposium Partners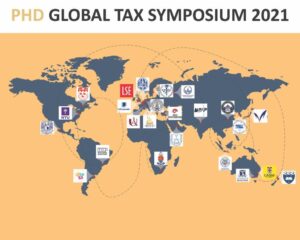 Find the program here. If you want to follow the presentations online, please register here and you will receive a ZOOM link.
The Scope

The 2021 PhD Global Tax Symposium will address topics of international taxation that might be of relevance for the current global tax agenda. These topics include personal taxation, wealth taxes, the digitalization of the economy, use of artificial intelligence in tax matters, environmental taxes, tax arbitration, and issues concerning the 2030 Sustainable Development Agenda.
International tax concerns have changed drastically with the introduction of immaterial assets to commercial relationships and the swift evolution of telecommunications. The alternatives looked for solving those issues go beyond normative constructions, therefore multidisciplinary analyses are advisable. Also, broader frameworks have been constructed towards tax standards envisioned by international stakeholders, as a way to support policy changes and also to defend causes connected with social welfare.
Among the existing gaps in the past and current state of affairs of international taxation, researchers phrase questions and investigate issues relevant for the construction of new regulations. It is important that the research findings are disseminated widely so as to enrich domestic, regional and global tax discussions.
It is for this reason that the 2021 Global Tax Symposium (GTS) general event will be preceded by a PhD researchers' event. We want to offer the possibility to PhD researchers to share their preliminary or finished thesis chapters, as well as their research related papers, benefitting from an interdisciplinary and intercontinental panel of discussants.
Where and when?
A two-day event on 30 September and 1 October 2021.
Venue: Hybrid at Leiden University and Online